View Our Selection of Custom Murphy Bed Styles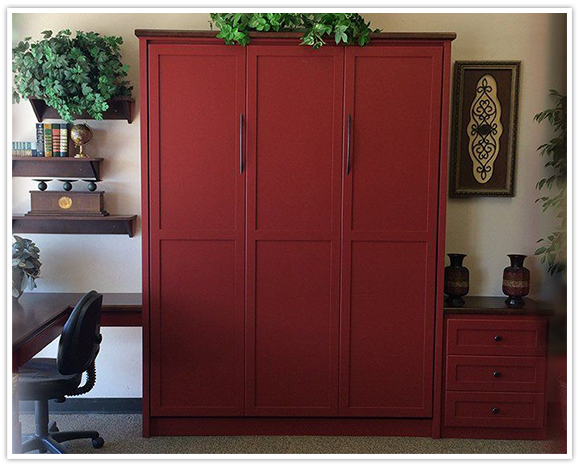 We are the oldest, and largest Murphy/Wall bed dealer in Arizona. Our company is family owned, and has been serving Arizona since 1976.
Our cabinetry is built at our family woodworking shop, which is located in central Phoenix. Our cabinetry is custom built for you. We offer a full line of custom Murphy Wall beds in woods and stains of your choice. You can choose from the basic bed cabinet, to a whole room of custom built cabinetry.

Our delivery area is the entire state of Arizona including: Phoenix. Mesa, Chandler, Flagstaff, Tucson and everywhere in between.
Our mechanisms all come with a 10 year warranty
Our cabinetry has a 2 year warranty.
If you choose to purchase a mattress with our units, the mattress has a 10 year warranty as well.
We were immediately greeted when we walked through the door and Tammie was extremely helpful. She helped us find just what we were looking for in a Murphy bed with a built in desk. She also gave us 2% off for paying with check and gave us the mattress for free!


Recently purchased a new home and had an extra room that we wanted dual use from. Decided on a Murphy bed since we occasionally have guests but didn't want a dedicated guest room. We were able to choose between a custom design or pre-built and the installation from the guys made the process quick.


---
Contact Us
Today
With Any
Questions!